The most important aspect of a small conference room is simplicity. A small conference room typically has dimensions no less than 12 x 15 feet and no larger than 14 x 18 feet. It is designed to seat 4 to 8 people comfortably. Every small conference room should have an appropriately sized monitor or projection system, a reliable audio setup that allows everyone to hear, and a quality conference phone.
Smarter Systems' Chief Operations Officer Micah Pattisall says,
"The biggest pain point is lack of functionality. Whether this is due to insufficient user knowledge of how to connect, missing or broken patch cables, or a network issue with the wireless connection, if a user or team cannot connect to present, time is wasted, and meetings are less productive."
We've come up with the four basic AV technology needs you'll want in your space.
A 50-60" monitor is all a small conference room needs. Like any small room, if you get much bigger, it can be overpowering. However, if you get too small, you may not be able to see graphics or spreadsheets.
Upgrade: If you are looking for an update to your current small conference room display, we suggest a commercial monitor with an automatic shutoff feature. You could also add an interactive monitor. SMART has several options that would work well in small conference rooms.

When it comes to baseline in a room of this size, you can use the monitor speakers. Monitor speakers provide an adequate level of audio for basic presentations.

Upgrade: If you want an update, you can always add a soundbar above or beneath the monitor, or even have ceiling speakers installed.
Your team will need at least a conference-style speakerphone in this type of space.
Upgrade: If you are looking for an upgrade, we suggest the Crestron Mercury. It's a 3-in-1 device that acts as a phone, soft conferencing appliance, and wireless connection. If you are using a unified communication tool like Skype for Business, Zoom, or Webex, the Crestron Mercury integrates seamlessly.
In a room of this size for a small working team, you'll need an HDMI connection. The most budget-friendly option is to plug-in directly into the monitor, which we call a tether. If you want to improve the aesthetics, use a cable cubby so you can plug-in from the table.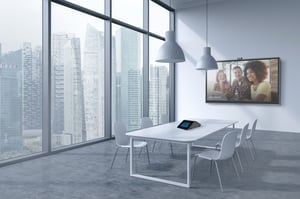 Pattisall says, "The connectivity of your team's laptops should be a quick and painless process. Whether you are connecting directly with an HDMI patch cable, or via a wireless solution, you should be able to walk into a room and begin a meeting within 2 minutes.
Upgrade: A popular audiovisual tech upgrade option would be going wireless. You could also add a push-button wall plate controller for the room. That way, you can manage the different components with a simple button push.
With every upgrade or change, you should keep in mind teams need training. Pattisall said, "Even simple systems require a basic outline of steps for connectivity. You can accomplish this with a bullet point card in the room detailing connection options. Second, clients need to assess their computers and ensure their teams have the proper adapters, and correct settings selected. Even small things like administrative rules that disallow applets to load can interfere with wireless connectivity and create inefficiency."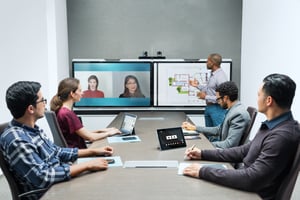 A professional AV company will help the client think through both the systems they need and the steps required to connect with a variety of devices and software. Clients also need to consider connectivity for their clients who use that space. For instance, if your wireless connectivity is limited to your network, and not the guest network, you will want to establish protocols for guest users.
If you are ready for a free assessment of your small conference room, contact the Smarter Systems team today.