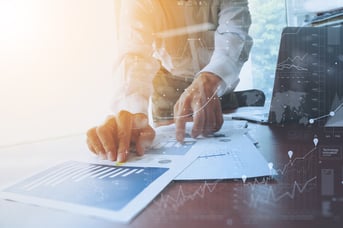 Wireless presentation is no longer a luxury in the business world, but the standard. The ease of connection for both internal and external users is not just wanted; it's needed to collaborate.
So, what is a wireless presentation system? A wireless presentation system allows users to share material from one device like a computer or phone, using screen mirroring technology. The content is shown using a wireless network instead of a hard-wired connection like a VGA or HDMI.
Here are three reasons our clients choose to invest in a wireless presentation system:
First Impressions
BYOD (Bring Your Own Device)
Collaborative spaces
First Impressions
Choosing wireless means just that; there are no wires. For us, it's cringe-worthy to see industry leaders with messy meeting spaces. It's one of the first things we notice. We can't help but wonder if you realize that's one of the first things that your new employees and clients see too! You show them to a conference room only to have wires hanging from the ceiling or stretched across the room.
Your audio-visual system should be just as impressive as you are. Creating clean, wire-free meeting areas is one way to make a great first impression. We should also mention that this is one of the reasons you want to hire an AV integrator.
BYOD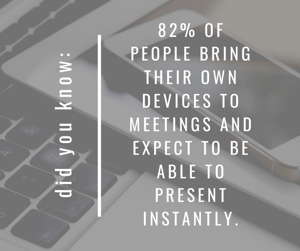 Wireless presentation technology is likely to become more critical than ever before in the coming years, especially with the rise in the bring-your-own-device trend. We'd be surprised if your team isn't already doing this. According to Barco, 82% of people bring their own devices to meetings and expect to be able to present instantly.
A wireless presentation system ensures anyone can walk into the room and present content from their device. Let's say you need input from your customer, but sharing on meeting room displays means finding the right connection only to learn your device isn't compatible. What's the point in a presentation system if it only works for certain people? Barco says when it comes to meetings, on average, 12% of the time is spent on trying to set up or connect to technology. If that's the case, you won't be getting the input you need anytime soon.
Collaborative Spaces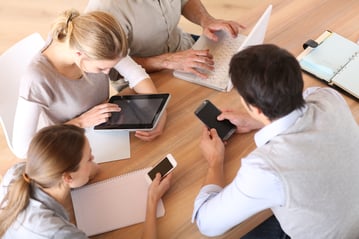 Wireless presentation frees people to sit or stand and easily connect their smart devices or laptops to a room display, regardless of the operating system. Whether it's connecting to the audio when working remotely, or screen sharing during on-site meetings, businesses need to choose technology that is intuitive and simple to use. That way, meetings can start on time and finish earlier. Employees need to feel like they can meet at any point during the day and know the presentation system will work.
Curious about which wireless presentation system is best for your business? Click here to learn more about the process Smarter Systems uses to make recommendations to our clients.