Our focus is always on the user experience. That's why we partner with the best-in-breed manufacturers to make sure we have access to technology solutions that fit a variety of needs. When it comes to wireless presentation systems, we consider three categories before choosing a solution for a client. Those include:
Ecosystem
Closed System
Generic
Depending on where you fall in those categories will determine what solution we recommend.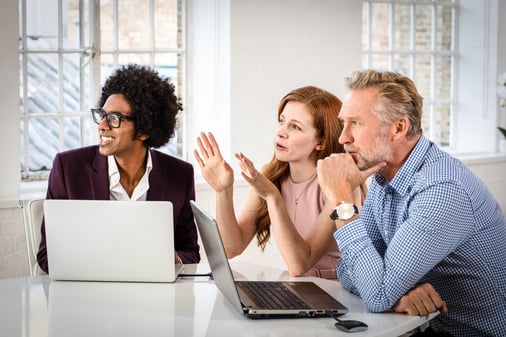 Why Wireless Presentation
Wireless presentation is now the standard. The ease of connection for both internal and external users is not just wanted; it's needed to collaborate. With a wireless presentation system,This collaboration can happen wirelessly, allowing users to share material from one device like a computer or phone, using screen mirroring technology. The content is shown using a wireless network instead of a hard-wired connection like a VGA or HDMI.
Top Wireless Presentation Solutions
The most popular solutions we use in conference rooms are:
Crestron AirMedia
Poly Pano
Barco ClickShare
Barco WePresent
Kramer Via
Here's how they fall into the categories of ecosystem, closed, and generic systems:
Wireless Presentation : Ecosystem
Smarter Systems Design Engineer Gil Medina says, "I make choices based on what ecosystem the customer is already in, first and foremost." These wireless presentation solutions have the best UX when paired with similar AV products. An example would be Crestron AirMedia or Poly Pano.
Crestron AirMedia touts the fact it runs without a dongle or USB connection and that you can connect from any browser on any network. AirMedia does work with existing infrastructure. It can deploy and update remotely, and that is especially helpful if you have multiple rooms with this type of technology. Smooth video playback with synchronized sound is a user favorite. The Crestron AirMedia has the lowest bandwidth consumption and latency on the market.
The Poly Pano is easily integrated with Poly codec. It's the perfect solution for those already in the Poly ecosystem, but it also works with a lot of other ecosystems' equipment as well. Poly prides the product for its industry-leading security. It has a revolving PIN code and over-the-air encryption for data protection.
Wireless Presentation : Closed System
If the client's focus is primarily security we might recommend a solution like the Barco ClickShare. Being a closed system, ClickShare can arguably be the most secure wireless presentation system. ClickShare requires you to plug a 'puck' into a USB-A or C port, instead of just wirelessly accessing the gateway, the UX is different. ClickShare has some genuine advantages because it works out of the box without ever touching the customer network in any way. We've known more than one law firm that used Barco ClickShare exclusively because of its security features.
Wireless Presentation : Generic System
When security and ecosystem aren't factors in the decision, we turn to this category. Or, if there is a feature that is very specific to a unit. In the case, you aren't concerned about security or ecosystem, but you are motivated by price, WePresent may be a solution for you.
Another example would be if the customer is a big Apple product user (macs, iPads, iPhones). Apple has an ecosystem answer in the Apple TV, but it's not made for commercial AV, so you might look at the Kramer Via, which is super Apple friendly.
To talk with a solutions expert about the right wireless system for your environment, click here.