We know it's tempting to want to do it all yourself; it happens to all of us in various aspects of life. Whether the motivation is money, time, or pride, you hold on to that project to complete yourself. However, we all know it can quickly become more of a burden on your time and money than you ever could have imagined. In the end, hiring professionals would have been best. If you are considering taking on a meeting space technology overhaul on your own, here are five signs you may want to go ahead and call in the professionals (also known as AV Integrators).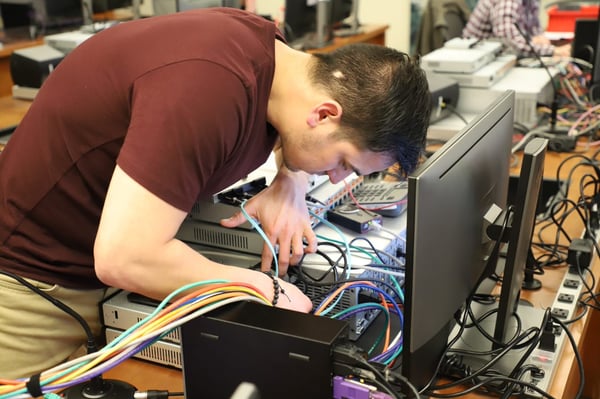 1. You are concerned about money.
Money is probably one of the biggest motivators for many trying to do a project yourselves. But think about this problem as a two-fold. AV Integrators typically have partners they work with that offer them special pricing so that they can secure great deals on professional products that have a proven track record and come with a warranty. That in itself can save you money for years to come.
What does it cost when your conference room goes down? Let's say that residential grade display you purchased from a chain store stops working, while you would be stuck trying to figure out what happened, an AV integrator would take care of that burden for you and replace under warranty.
What does it cost when your system is so complex only you know how to use it? If you are needed every time there is a meeting to help remedy the technology issues, the ongoing time you are giving up is costing money. Audiovisual integration makes sure ease-of-use is a top priority.
2. You know your current room needs but haven't planned for the future.
While the needs of this room may be defined now, you may not know what you'll need three years from now. AV integrators can help you to think through and cut down on future burdens by putting technology in place that can withstand the change and growth of your company. Foresight on audio and visual needs may be as simple as the installation of an extra cable during the project, so it is a smooth transition later. As you can imagine, this type of foresight can save you thousands of dollars in the future.
3. Your cables are a mess!
Cable management is the number one request we get when designing a room. "I can tell as soon as a walk into a room if a professional AV integrator was hired to do the work, just by looking at the cables," says Smarter Systems Project Manager Randy Tarlton. "You don't want clients and employees to walk into a rat's nest of cables," Tarlton added. Cable management isn't only to be aesthetically pleasing but for room function. This is especially true in huddle rooms where a clean space and efficiency are often top of mind for users. If you don't know what cable to use it, you've wasted time and money.
4. You don't know the technology in your room.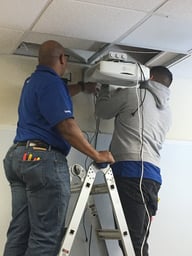 AV integrators are experts on all things related to meeting space technology. From room design to the equipment used in your conference room vs. your huddle space, AV Integrators make sure all your systems function together. If you are unsure if a piece of technology is going to work well with other technology in your room, this may be a sign you want to call in the professionals.
5. You want a partner.
Who doesn't want a partner to ask questions and troubleshoot problems?
Smarter Systems prides itself on our hands-on planning, installation, and support services ensure full-team adoption of user-friendly and scalable AV solutions. Technology is only helpful when it is operating optimally. That's why we consider ourselves a support partner well beyond the installation. You can imagine the money and time saved with a partner like that.