The business world has significantly changed over the past decade. You'll find lots of large open floor plan spaces, adjustable desks, and maybe even natural light if you're lucky enough to escape the fluorescent bulbs. As a way to adapt, we're now seeing a massive spike in huddle rooms or huddle spaces in every industry you can imagine.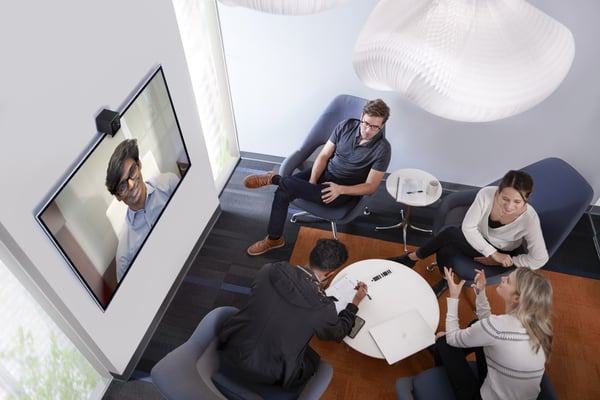 "88% of global enterprises have at least one huddle space installed." -The Perfect Meeting Report, 2018 – Circle Research & Barco
What is a huddle room?
We consider a huddle room a small meeting room, designed specifically for two to 5 people. You'll likely find a display and phone in this room as well as a little table or credenza. Those features make it ideal for short catch-ups, brainstorms or ad hoc calls.
Huddle rooms are some our most popular AV integration projects. The AV technology you use can change the way your team collaborates. Check out our most recent projects here.
Why should I have a huddle room?
1. No reservation required
You typically don't need to reserve these small spaces, like you can conference rooms, which makes it the perfect place for spontaneous meetings. This meeting area now allows the team to escape the noise and distractions of cubicles, but not always have a planned meeting time. This type of space for collaboration fosters creativity.
2. Inexpensive and useful
The room is simple, and so is the technology that's needed. Huddle rooms are going to be smaller rooms in your facility, so right now it could merely be an underutilized space you could turn into a huddle room. They need very little technology to be functional so you can keep this project budget friendly. At a basic level, you would need a display and phone, but there are more options to add things like video collaboration or a wireless presentation system that can significantly improve the collaboration among teams.
Check out the wireless presentation system

our clients are choosing to use in huddle rooms:
3. Bring teams together
Huddle rooms give teams, no matter where they are, the ability to connect face-to-face for a meeting, whether it's planned or on the fly. You can save your traditional conference room for the larger group gatherings. Huddle rooms are a great way to give everyone a life-sized presence, and they feel a little less remote.