Ready or not, working from home has now become a business reality. Even if your team wasn't fully prepared before, they are finding a way to make this work during the Coronavirus (COVID-19) pandemic. For some, it's been scary and overwhelming, but this is our new reality. Now is the time to settle in and leverage technology such as video conferencing for meetings to make the most of it.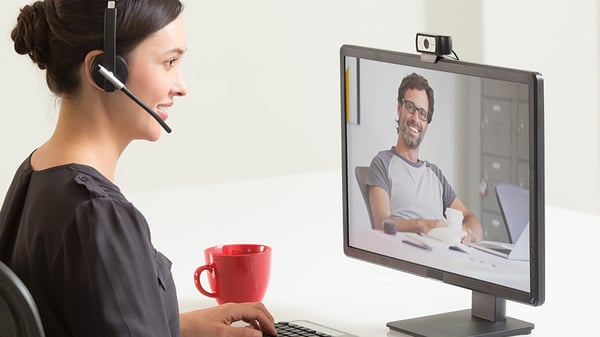 Video Conferencing
Think about your communication style in the office, with clients and teammates. Visual interaction often takes your communication to another level beyond that of just audio. In most instances, video conferencing so closely mimics face-to-face interaction it negates the need for travel. And right now, travel isn't even an option.
In Forbes' The Connected Culture: Unleashing the Power of Video in Everyday Collaboration, a global survey of over 300 executives concluded that video conferencing is vastly more engaging, conferring greater understanding and intimacy than mere audio conferencing. The study conducted by Forbes overwhelmingly showed "video conferencing energizes teams, not only driving trust alongside deeper levels of understanding and connection but also accelerating the pace of communication."
Video Conferencing Equipment
The executives surveyed in, The Connected Culture: Unleashing the Power of Video in Everyday Collaboration, agreed that whatever the activity, video conferencing is a catalyst by which leaders supercharge their performance. So, if you or your team has just been "winging it" until now, it's time to start making sure this temporary but new normal work from home set up can be sustainable long term and that you can connect with clients and co-workers with video. We've put together video conferencing equipment must-haves to make your temporary home workspace function like your corporate office.
Soft conferencing platform
If your meetings recently adopted this platform, you'll find useful tutorials on how to navigate it here.
This is how the Smarter Systems team chooses to work. It's been a great way for us to stay connected with most of our team working remotely. Microsoft is currently offering Teams for free for a limited time- so check it out.
Speakers
What good is a meeting if you can't hear the participants? We would say audio is king of a meeting! The built-in speakers on your work-issued computer may not be enough. Wearing earbuds all day isn't ideal If your computer microphone and speakers aren't sufficient. You may want to consider a USB personal speakerphone.
USB Webcam
If you're using a multi-display setup at home like most of our team (laptop screen and two displays), it's helpful to use a separate webcam on top of one of the larger displays rather than the one built into the laptop. For example, our VP of Systems Integrations always has the Zoom or Teams meeting on my middle monitor. He says it's much easier to see than the laptop screen. If he's using the laptop camera and looking at a screen to its right, he won't be looking at the camera. This makes for an unnatural conversation. It's more engaging if he looks at the screen that has the camera directly above.
We tend to recommend Logitech for your home office needs. Our VP of System Integrations said he even bought one for his daughter, who is now having to take advantage of distance learning to finish her first year of college. You'll see the camera he chooses for his daughter in our A Smarter Way to Work From Home guide. Keep in mind; the Logitech cameras have a pretty good built-in microphone if the end-user is happy with using their computer speakers.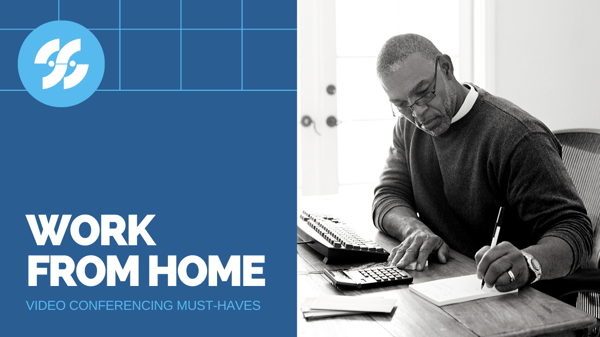 Dual Monitors
You can level up your work from home game with a dual monitor setup. Dual monitors mean having two monitors for one PC or laptop. Most of our team has this setup in the office and have tried to mimic it at home. Using dual monitors makes viewing content and video a much better experience. Our team also finds it helpful to have the ability to see different programs and content simultaneously on separate screens.
Immersive Collaboration Space
Create an experience at home or back in the office for all those who are considered essential. Most manufactures today have an out of the box solution that incorporates the most widely used soft conferencing platforms. You can check out the Crestron Mercury here. This solution offers a fantastic audio/video/screen share capability in the meeting room. Those remote participants can still be engaged, whether on their phone or PC.
No matter your situation, temporary or long-term, you want to create a space that fosters productivity. Having these solutions in place will help connect you with your team and clients. If you are looking for a smarter way to work from home, make sure you check out our guide.