A sound masking system can solve your office speech privacy problem. You may be asking if there is, in fact, a speech privacy problem in your office? Chances are your answer is yes, because it's the number one driver of workplace dissatisfaction. According to Cambridge Sound Management, 60% of open office employees are unhappy with their lack of speech privacy.
The Speech Privacy Problem
So what is speech privacy? It's making sure an outside listener cannot understand a conversation. Have you ever overheard a private call in your office, or worse, had someone over here your private call? Cambridge Sound does a great job explaining speech privacy in this video:
Why Do I Need Sound Masking?
Sound masking is a barely noticeable sound that is similar to airflow, but it's specially tuned to make human speech less intelligible. Sound masking does not cancel sound or eliminate all speech noise in an environment. It merely reduces how far away conversations can be heard and understood by others. That's why you would choose sound masking vs white noise.
Still not sure what sound masking is? Check out our blog here.
How Does a Sound Masking System Work?
A popular sound system solution Smarter Systems chooses for clients is made up of just three things: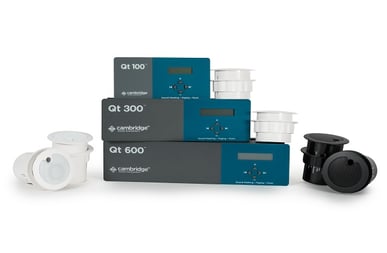 Speakers

Control module

Category Cables
The speakers are also known as emitters. The control module is the component that powers and sends the audio signal to the emitters. And the standard category cables are used to connect the emitters to the control modules.
Keeping it simple allows our integration specialist to install the entire system quickly, efficiently, and effectively – often with little to no disruption to your business day. The system is designed to grow and change with your business; that way, new emitters can often be added to the existing control modules.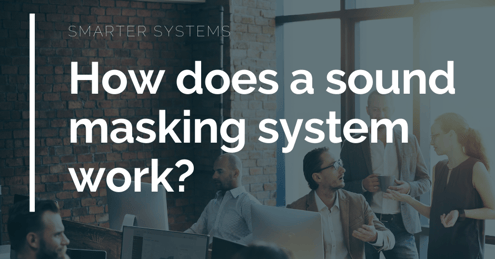 In most cases, sound masking speakers are installed above the finished lay-in tile ceiling. Cambridge Sound calls these emitters. The emitters are easily installed by professional AV integrators in a simple grid pattern, determined by the ceiling height. During the layout and design phase, your space is divided into zones based on the acoustic requirements. These zones can range from 100 square feet to 12,000 square feet. The zones are also a good indicator of how much a sound masking system will cost.
Sound masking can also be emitted into an environment indirectly. In this method, speakers would be installed above the ceiling tiles. The speakers would then point upwards, towards the ceiling deck. The masking noise would hit the deck and reverberate back down through the ceiling material into the workplace below.
Ceiling architecture, ceiling height, paging, and music needs are all going to be factors when choosing the best sound masking system for your needs. Some sound masking systems have specific purposes like speech privacy with spot treatment for conference rooms. Another popular option is the Qt® Patient Privacy System, specially built for healthcare settings such as waiting rooms, exam rooms, and pharmacies with HIPPA concerns.