It's more important than ever to have technology that allows remote teams to work collaboratively from remote places. With Coronavirus (COVID-19) making global headlines, many large organizations have halted international travel, and they've started to strict non-essential travel here in the US. Work from home is quickly becoming the norm. Even small businesses are starting to feel the impacts and realize the importance of having technology that connects people, so everyone can continue to work.
Lori Cook, VP of Strategic and Global Accounts at Smarter Systems was recently featured
on WSOC-TV (Charlotte) as an industry expert for conference room AV technology.
COVID-19 Business Tips
We encourage a fact over fear education about the virus and believe it's never too early to prepare. We're still in the middle of Influenza (flu) season, and we deal with it every year. The Centers for Disease Control and Prevention recommends following its interim guidance to help prevent workplace exposure to acute respiratory illnesses in the office. Those include staying home when sick, hand washing, and office cleanings. But the emphasis is on staying home, even to care for others who get infected with the virus.
Creating your AV Technology Strategy
With travel restrictions and the need for remote work capabilities, we sat down with Smarter Systems Vice President of Strategic and Global Accounts, Lori Cook. She's an industry expert in creating collaborative workspaces for clients across the country and here in Charlotte. She recommends these foundational steps in creating a strategy:
1. UCC Platform
Consider what is your unified communication and collaboration (UCC) platform? Are you using Skype for Business, Microsoft Teams, do you use Zoom? What are things that you natively already have access to that you could leverage or expand?
2. Location
Examine your footprint. Where are your teams located? Do you need to connect all your offices or just in certain regions? Is your workforce widespread? Do you have some people in the office and others working from home? What kind of work will everyone need to accomplish?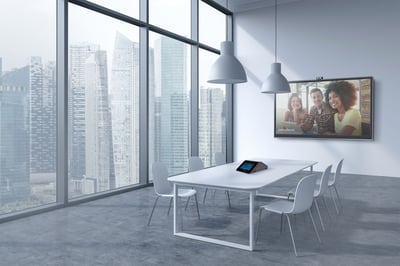 3. AV Solutions
You are going to have bridge your gaps in location. Let's take a look at video conferencing as an example. If in a home office, Zoom meetings are great. You'll want to ensure remote employees have webcams. If you are typically using a conference room and you need to be a little more collaborative, building out a Zoom Room may be valuable or investing in a solution like Crestron Mercury.
If you feel it would benefit your business if you viewed your audiovisual technology through a different lens, let's talk. It's not just project teams who can be affected but the potential of being required to work from home, but all key contributors from Human Resources to Accounting and everyone in between. If you are ready for us to help you with your strategy just click here, we'd love to help!