If remote work isn't already a mandate in your office, it's been discussed. According to global technology giant Barco, remote work is up 115% in the last decade. Can you even imagine how that number has changed in the last month? Coronavirus (COVID-19) has drastically changed the way businesses operate here in Charlotte and around the world. If a work from home mentality is new territory for your business, it may feel chaotic and overwhelming. Consider the following guidelines to help your management team and employees acclimate.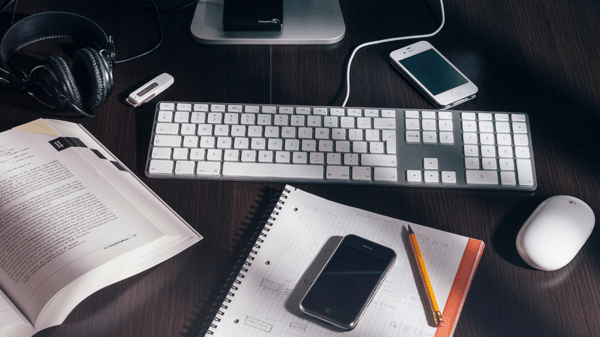 Telecommuting
Set your team up for success with a clear direction. At Smarter Systems, we define telecommuting as an employee whose work schedule includes a full or partial workday from home or another alternate worksite. Our leadership team offers a remote work option to employees when it benefits organizational and departmental needs.
Generally, our team maintains an established schedule—for instance, Mondays and Wednesdays in the office, Tuesdays, Thursdays, and Fridays at home. We established a set of guidelines to accommodate standard variations in an established schedule such as sick kids, doctor's appointments, or a car in the shop. The growing concerns of COVID-19 are anything but standard but is an example of how established guidelines allow our team to adapt.
Home Office Best Practices
These best practices were developed by Micah Pattisall, Smarter Systems' Chief Operations Officer.
1. Dedicated Space
Establish a distinct workstation. Try to make it as similar to your office workspace as possible. Avoid working from the couch or dropping down at the kitchen table. A dedicated workspace will help you personally shift into work mode. It also helps establish boundaries with anyone living with you. When you are at your workstation, you are "at work."
Working from home with a toddler?
Click here to see what our VP of Strategic and Global Accounts
2. Seating
Make sure you have a comfortable chair. You can set up an excellent desk or workstation, but if you overlook a good seat, your back will pay for it over the long haul. Managers should offer to provide a comfortable solution.
3. Phone
Stable and reliable cell coverage is a must if you are not using a landline or soft conference laptop features.
4.Office Supplies
Have a set of office accessories for your remote office so that you have fewer things to carry back and forth. Your goal is the consistency of workflow at either location.
Examples would be:
· Mouse
· Keyboard - if you don't use your laptop keyboard
· Headset
· Calculator
· Charger(s)
· Sticky notes
· Stapler
5.Internet
Ensure you have a reliable and stable internet connection. Good internet speed is at or above 25 Mbps. These speeds will support most online activity, such as HD streaming, web browsing, and videoconferencing. Click here to check your internet speed at Google.
6.VPN
If your workflow requires a virtual private network (VPN) for secure access, ensure it has been installed and is working correctly before making a move to remote work.
7. Dress Code
Dress decently. You may end up on a video conference call. While you may not need regular office clothes, wearing something other than pajamas will prepare your mindset for work.
8. Set hours
Be available during standard working hours via email, phone, and instant message exactly as you would be in the office. Don't overdo it. Many remote workers have a difficult time disengaging and feel as if they are "always on." Working established hours helps with both productivity and employee mental health.
9. Be Productive
Establish your to-do list and work. The freedom of working from home without supervision present can provide temptation to be less focused. It can also allow you to get a lot done. Bring your A-game to your remote workstation.
10. Manage Teams Proactively
If you are a manager, stay in touch with your team and ensure they have a clear direction. Maintaining contact offers general accountability and ensures employees feel like they are not on an island.
We realize COVID-19 is a fluid situation and maintaining normalcy is important. Your AV technology is such going to play an integral part in your success and staying connected while working remote. If you need help, we are happy to assist. Click here to receive a call from one of our AV technology experts.