Gone are the days of blackboards and chalk. I can't say I'm sad to see those go. Who remembers that awful sound of chalk scratching? Yikes! While a chalkboard might have been cutting edge in the 19th century, today's modern classroom is full of amazing electronic technology. And that's the rub, there are so many options, especially when it comes to displays and presenting content to students.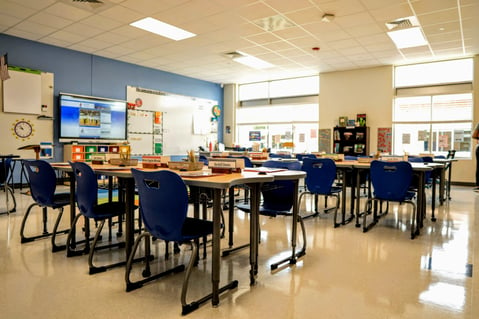 A popular question we are asked frequently revolves around the use of TVs in the classroom. We rarely recommend it, almost always recommending interactive flat panel displays instead. Although we know this isn't a one size fits all decision.
So, let's explore the reasons we make that recommendation.
What's the difference?
Interactive displays are LCD screens, and though they look like big TVs, they offer much more than that. They are touch and pen-enabled, meaning that you interact on them as you would a tablet. Multiple people can use them at once with screens as large as 84". You can use the built-in computing power, connect your own computer, or bring other mobile devices together to share content wirelessly, as well as work with your online curriculum.
The key difference between an interactive display and a TV display is right in the name: interactivity. Because TVs are readily available and often a more budget friendly option upfront, consumers consider them viable options.
The Pros
Below you'll find a list of some of the pros for both TVs and interactive panels. In this case, we consider a pro of the TV a con of the interactive display and vice versa.
TVs
Price - Consumer-grade TVs cost much less upfront than interactive panels which are typically commercial grade.
Readily Available - TV's can be purchased online, or at any electronics or big box store
Interactive Flat Panel
Education focused -

An interactive flat panel from SMART is a tool designed from the ground up for classroom use. Don't force technology that's designed for home use to be used in the classroom.

Warranty - You want to know that the tools purchased are backed up by a commercial warranty. SMART offers a 3 to 5 year warranty for their products.
Training & Support - We provide complimentary training resources at the time of installation

. It's essential to know how to work the technology in your classroom to get the most out of it.
We believe interactivity is a powerful and necessary tool in the classroom, and should be considered during your next classroom technology purchase. In an interactive display, teachers have a tool that supports whole class, small group and individual learning, and transitions fluidly among the three. Interactive displays provide a great platform for teachers to present and guide learning, as well as a tool for students to work together, interact with content, and problem solve.