When you are thinking about video conferencing, software like Zoom or Microsoft Teams comes to mind. Those types of unified communication and collaboration platforms (UCC) are essential now that the workforce has moved to a work from home model. This software creates a virtual conference room. But, what does it mean for your actual conference room when it's business as usual? Everyone attending your meeting can't huddle around one person's laptop, can they? (The answer is no.)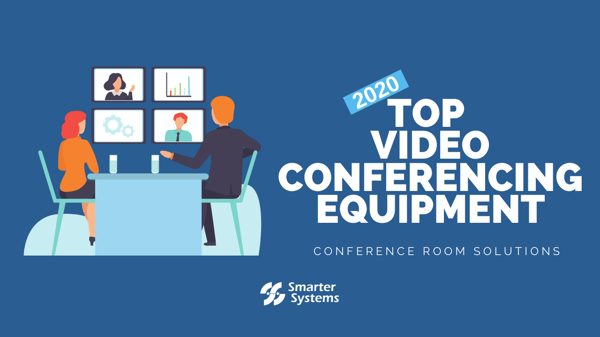 What is video conferencing equipment?
Video conferencing equipment is the hardware required to set up your virtual conference room in a physical space. The AV technology solutions needed are what we call the essentials of AV: display, audio, communication, and connection. It's everything from cameras, speakers, and displays, to conference phones.
BYOM vs. RBM
The solutions fall into two categories- Bring Your Own Meeting (BYOM) or Room-Based Meeting (RBM). These are relatively new terms, but the concepts are not.
BYOM
This solution relies on a meeting participant's device to drive the meeting technology. That means the participant is bringing their own UCC platform. Often, this is software the participant is already familiar with and already lives on their laptop.
RBM
This solutions relies on a dedicated in-room system to drive meeting technology. We consider RBM to be driven by technology embedded into the room system equipment. In reality, a BYOM space could be converted into a "build your own" RBM by dedicating a desktop computer to the room in place of bringing a laptop into the system.
RBM is an excellent solution if an organization primarily uses one UCC meeting platform or if everyone in your organization does not travel with their own laptop. RBM means the meeting room AV hardware houses the UCC. Frequently it's as simple as one-click to get the meeting up and going. Several ready-made solutions allow you to set up the conferencing hardware as an endpoint for Zoom or Microsoft Teams.
Top Video Conferencing Equipment
The equipment featured below are among what we often recommend to our clients. All five options were recently part of a scope of work we put together for a Charlotte business. You can see the entire proposal here. The main video conferencing components of the room solutions we presented were:
Poly Trio Visual+
Poly Studio X30
Crestron Flex Wall Mount
Crestron Mercury Tabletop
Barco Clickshare CX-30 Wireless
This is a Room-Based Meeting solution
Device is at the table
Camera at the display
Poly says: Poly Trio Visual+ is quick to deploy with simple plug-and-play connections: HDMI for a display, supported USB for camera and Power-over-Ethernet (PoE) for electricity. That's it! With its small footprint, it can easily be mounted out of view.
This is a Room-Based Meeting solution
Device is on the wall
Camera and speakers are embedded
Poly X50 is very similar to the X30, but allows dual displays (one for content and one for seeing the participants on the far-side). The TC8 touchscreen controller for the Studio X30 and X50 is a selling point; one of the big features is the camera which intelligently frames the shot of the in-room meeting participants.
Poly says: Don't just have a meeting. Experience a boardroom-quality performance. The Poly Studio X30 is an all-in-one video bar for huddle and small rooms. It's radically simple to use with support for leading cloud video services built right in—no PC or Mac required. Voices are crisp and clear. And wireless content sharing lets users collaborate from their devices without the need for cables or pucks.
Room Based Meeting
Device is on the wall
Camera and speakers are embedded
Crestron says: The Crestron Flex UC-B140-Z system provides a video conference room solution for use with the Zoom Rooms intelligent communications platform. It supports a single video display and features the Crestron UC Video Conference Smart Soundbar & Camera (UC‑SB1‑CAM‑FLEX), 10.1 in. touch screen, and UC Engine Assembly with UC‑ENGINE‑SD‑Z. There is also a Microsoft Teams version.
Bring Your Own Meeting
Device on the table
Camera at the display.
Crestron says: Mercury provides a complete video conference room solution for open-platform UC applications. It enables exceptional full-duplex wideband audio conferencing, speakerphone, video conferencing, BYOD multimedia presentation, content sharing, and web collaboration capabilities — all through one amazing tabletop touch screen console. Provides a customizable front-of-room experience and includes built-in AirMedia® wireless presentation technology and HDMI® connectivity for presentation content sources. Works natively with any SIP VoIP phone system or Skype® for Business VoIP application. Pairs with any mobile phone via Bluetooth®, and connects via USB to any laptop running any conferencing, softphone, or web collaboration application.
Bring your own meeting
Plug into end users' device
Wireless solution
Barco says: For meetings to be as productive as possible, participants need to feel engaged and inspired. ClickShare CX-30 from Barco offers a seamless wireless conferencing solution that can be used on any device to bring teams together–wherever they are in the world–to participate in inclusive meetings that generate the best ideas and discussion points. Compatible with any PC, laptop or Mac device running Windows, Android or iOS operating systems; ClickShare CX-30 can turn small to medium-sized meeting rooms into innovative meeting and conference facilities.
We partner with best in breed. The choices we selected above are real examples we've presented to clients when configuring conference rooms. The equipment above isn't the complete solutions. To see how we'd transform your meeting space click here.