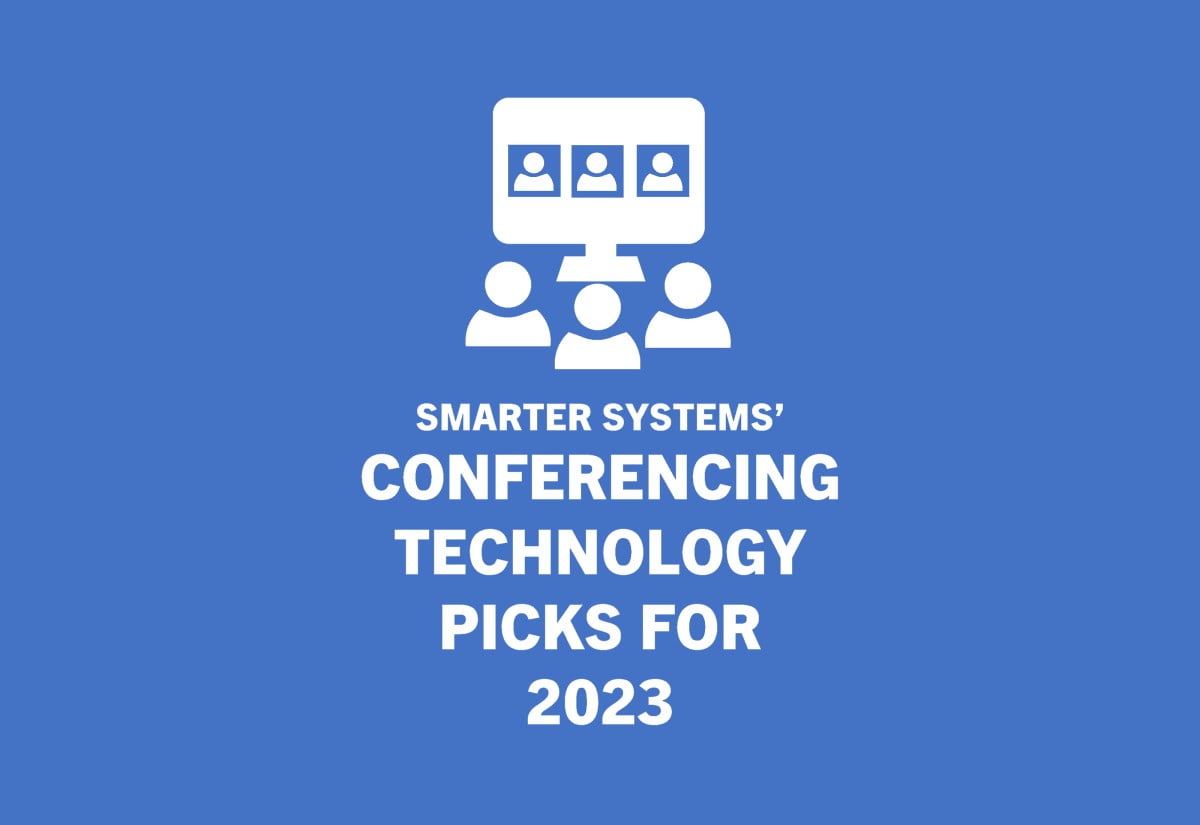 As a leading A/V integrator in the Carolinas, we have not only a passion for understanding what's hot on the hardware market right now, but a duty to take in that information and help out our clients to provide stellar A/V solutions. For our picks, we set a goal to let you know what not only our design & install, sales, and marketing teams love, but also what ultimately is going to be futureproof, easy to use, and flexible for a variety of use cases.
If you want a keepsake of this list to have offline, you can download our eBook of this blog here. Not only does this have pricings of every device, but also the general ballpark amount it'd take to have us install it in your next conferencing space.
Key Terms to Know
But wait! Before you read any further, let's make sure you know what some key terms are for conferencing systems.
BYOD (bring your own device) - also synonymous with BYOM (bring your own meeting), this means that the conferencing system allows you to launch meetings from your laptop, phone, or whatever you connect to it. This solution allows for more fluid meetings, and use of different meeting clients.
RBM (room based solution) - this means that the conferencing system is fixed to a specific room. The JUMPSTART ROOMS Meet is a great example of this.
Agnostic - this means that the device can be used with multiple software applications, such as Microsoft Teams, Zoom, WebEx, etc.
Brain - more of an A/V slang term, this means that the device has an operating system already stored inside of it, and can be controlled without the use of an external device.
Without further ado, here's our top five, in no specific order:
Equipment to Keep in Mind
Poly Studio X Series
It's tried and true, and we've written about this one a lot, but we cannot underestimate how good this product line is. We've satisfied hundreds of customers with any of the three bars on this line (via Jumpstart Rooms and other custom installs), and here's the reasons why:
It's very user friendly.
Poly taglines this series as being "radically simple", and it's very deserved. There's multiple reasons for this reason that help this out:
The user interface is clean, sleek, and simple. It has only the necessary options, like setting up a meeting.
It comes with features like voice tracking and echo cancellation, which make your calls sound crystal clear.
It's agnostic.
The Poly Studio X Series is constantly expanding the amount of conferencing clients they're compatible with. As of us publishing this article, they've already got support for Zoom, Microsoft Teams, GoTo, RingCentral, DialPad, StarLeaf, and Verizon BlueJeans.
It has a brain.
Don't worry about trying to use your device to power this thing - being an RBM solution that runs on its own, all you have to do is hit a button to join, or two buttons to launch. Alternatively, there is also a brainless, BYOD-style solution that we think works just as great: the Poly USB Studio.
If you want to see how it works in action, check out this video we made showcasing the basics of the Poly X30:
Mersive Solstice Pod
A newer company on the block, Mersive has already made waves with their award-winning Solstice Pod. This device is so multi-functional that it's hard to point down exactly what it does. But you've got a plethora of options - you can use it for virtual conferencing, screen/content sharing (and have multiple devices connected and displayed at once), digital signage. You also have a variety of use cases for active learning, training rooms, and even home A/V systems. It's also completely agnostic, and is primarily used in BYOD settings.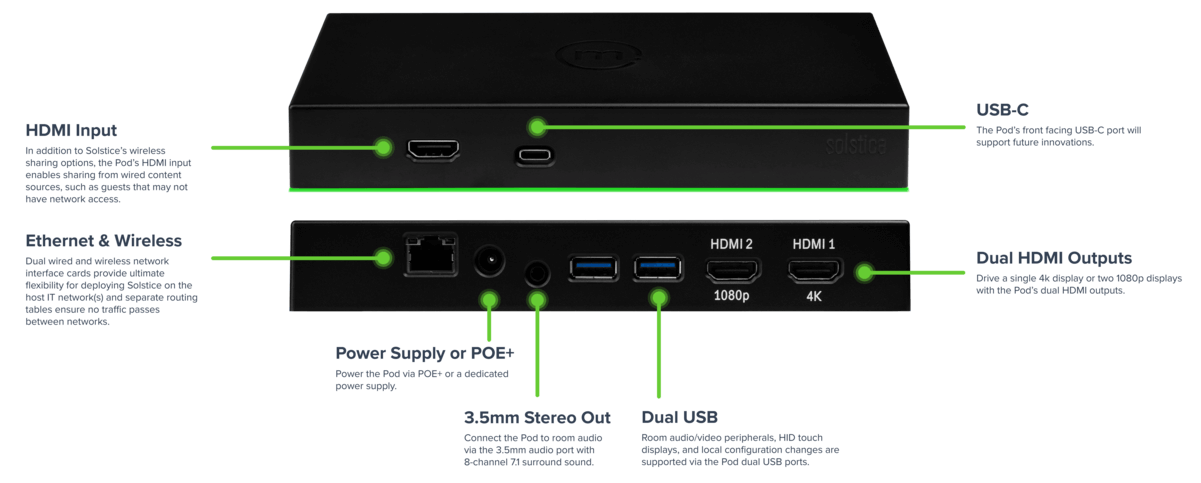 A main thing to note here is that Mersive will tell you that they aren't a hardware company; they're a software company that bundles their product inside of an I/O device. It has cloud capabilities that control automated security alerts, customized displays, remote deployment monitoring, and even its own software for virtual conferencing. Every Solstice pod on a network collects data to provide accurate statistics of its usage - how long meetings are, when they happen, how many people are using the device(s), screen resolution, if the meetings are proximate/hybrid, etc.
Not only is this piece of tech powerful, but it's very affordable. Only one of these comes at $1349 for use up to four people, or $1549 for unlimited use.
Biamp Parlé VBC 2500 Conferencing Video Bar
Biamp is primarily known as an audio company, but they've used their already top-notch audio knowledge to build a seriously impressive video bar with AI features.

Audio-wise, a whopping twenty-seven microphones constantly track your voice to provide the best conferencing experience possible. They do this with a feature they call Launch. In Biamp's words, "the acoustic performance of the room is analyzed and optimized at the touch of a button, making it easy to deliver extraordinary experiences consistently across your organization."
From a personal experience, the noise reduction on this is also incredible. To test out this device, we tapped a pen loudly against a table while talking. The device didn't even pick up the pen, but our voices were loud and clear!
While also featuring a 4K, 30FPS camera with electronic pan, tilt and zoom capabilities, the camera also automatically captures and frames the speakers in the room. And for when you're done using it, a privacy shutter automatically triggers. This can also be used in RBM or BYOD style meetings.
QSC Q-SYS
QSC's Q-SYS is an interesting addition on here because it's not a specific device - it's a whole collection of devices (such as processors, network switches, cameras, touch panels, and microphones) that interact together under software to provide a whole A/V experience. For example, take a look at this meeting room build: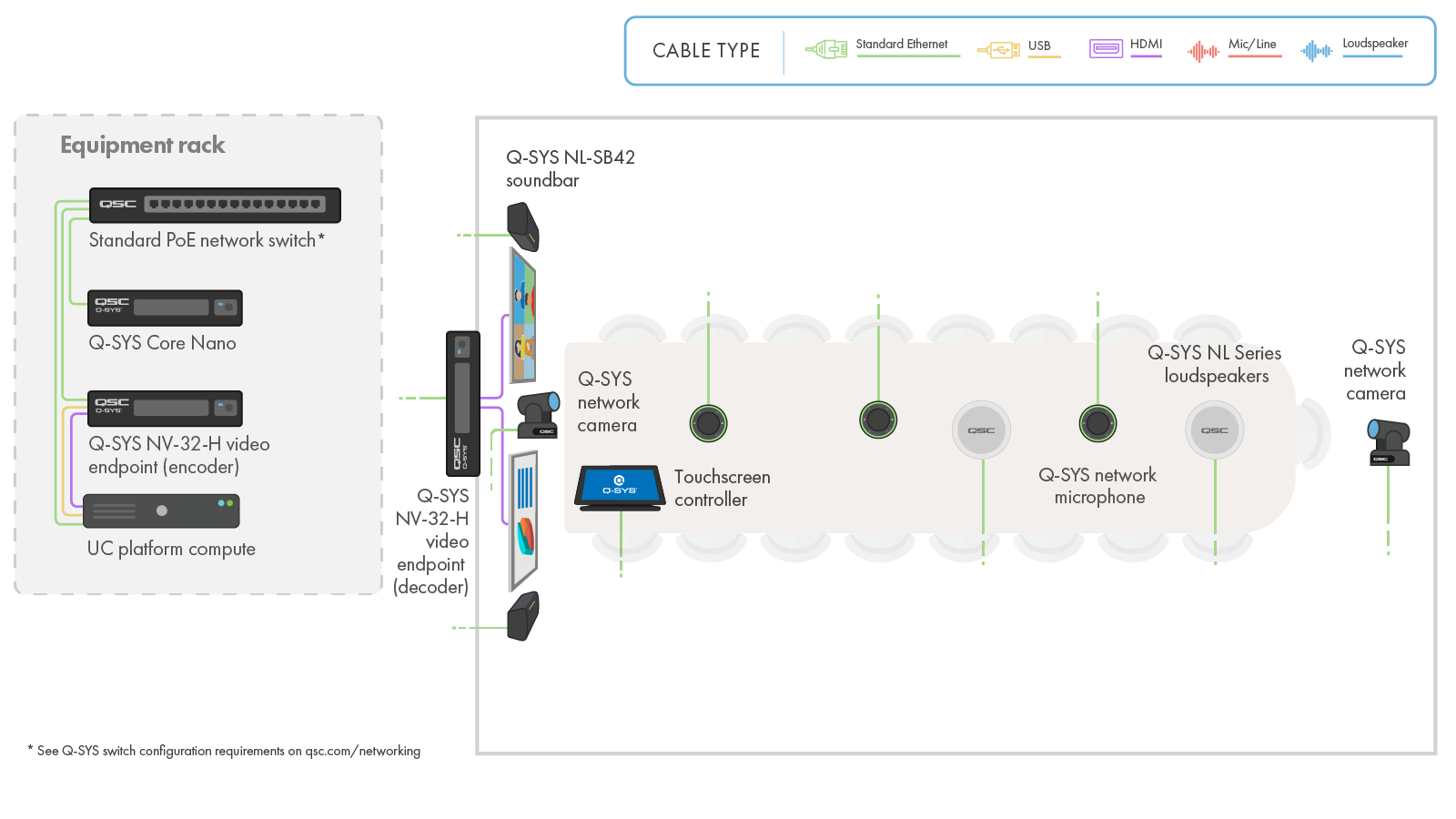 On this diagram, you've got a lot of pieces, but they all play together to provide a secure, flexible, and automatically controlled meeting experience. Arrange any of the Q-SYS devices to a solution that allows full sync between all input devices, automatic multi-camera switching, and a control platform that allows you to customize your system! You can also plug in other third-party devices...it's that flexible!
Here's a few devices of the Q-SYS series:
Network switches - with wattage ratings from 125-1440W, the network switch is not only powerful for its AVoIP utilization, but also for its automatic management of what goes in and out.
PTZ-IP cameras - being a PTZ-IP (pan, tilt, zoom) camera, this device broadcasts a 1080p picture while using auto white balance, exposure, and focus to provide the best picture possible. It's also got an impressive amount of zoom - the two models go from 12x to 20x, but can go as wide as covering

72.5° of the room

.
NM-T1 Tabletop microphones - with 360° coverage, the ability to be powered over Ethernet, and touchless input, this microphone is power-packed. What's neat about this too is that it only activates in the direction it hears sound - this way, the audio comes out more clear, and unwanted echo is removed.
To learn more about Q-SYS (and believe us, there's a lot!), check out their website here.
Salamander Unifi Table
Last but not least, Salamander is a furniture company has a very unique design approach to their builds. They integrate every product of theirs with key attention to not only ergonomics, but to functional use of technology. A prime example of this is the Salamander Unifi, an electronically-equipped table with a sleek, minimal look.

Built on aluminium chassis, this table comes in multiple colors, laminations, shapes and finishes to satisfy your taste and use case. It not only has multiple cable cubbies and charging ports, but can also store rack systems and cooling systems behind wooden finishes. The table also allows for superb cable management, allowing you to fit anything in here in an organized, stylish way. So long to the times of moving your laptop in an odd space where it reaches the charging port....it's right there on the table now!
Conclusion
Want any of these designs in your office, meeting space, or learning area but not sure how to install them? Give us a shout, we'd love to help you out!