The simple answer to this question is: it depends because conferencing systems vary constantly based on user specifications.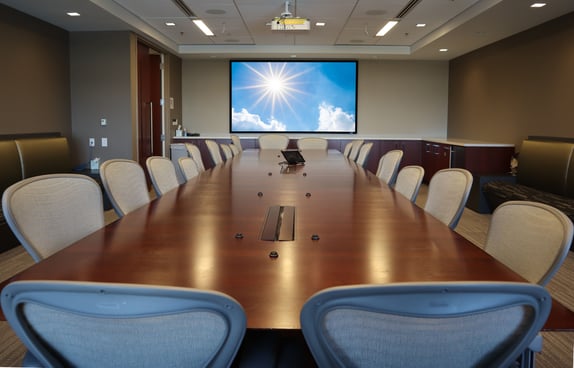 A conference system, just like buying a house or a car, is a basic package that can become much more complex with additions. For example, even choosing a display itself can be a complex problem. Do you want a regular flat screen monitor, or something different like a flat panel or wallpaper display? What size display do you need to make sure everyone in the room can see? How many displays would you want, and would you want them to be touch screen?
But also, like many other consumers, you want to be able to pinpoint the exact cost for exactly what you want. You know the idea of what you want, but not the exact specifications of the cost, the specific product, and how that device affects your conferencing experience.
This post should give you a reasonable idea of what you can expect to pay for various kinds of conferencing systems. Let's navigate the steps on how you can successfully create the perfect conference room based on your specifications.
Main Price Ranges – CapEx or OpEx?
There are two ways you can pay for a conference room. A lot of companies will want you to go through a CapEx (capital expenditure) purchase, where you pay for the materials and labor up front. With a CapEx, you also own the materials, which goes both ways. The ownership of the materials can be a rewarding thing, and if you have the cash already, it can be seen as an easy solution to get it done. But when any of the devices break down, become outdated, or even confuse the people meeting on how to use it, the situation will always fall in your hands to repair. If you're trying to have a professional conferencing system with a display, webcam, or video bar setup as a CapEx payment, you're looking at a range of somewhere between $2,000 - $10,000 depending on the size of the room and materials.
An OpEx (operational expenditure) purchase is a solution put in place to mend those issues. The first notable thing about an OpEx is that you pay monthly rather than in full – so if you can't afford the full payment, an OpEx purchase across multiple rooms is still substantially less than a CapEx purchase for one room. You also don't own the materials, but because of that, service is provided unconditionally for any issues that may come up. You can replace an old or unfavored system or repair an issue for no extra cost, which a repairman would probably charge you several hundred for. If you're trying to have a professional conferencing system with a display, webcam, or video bar setup as an OpEx payment, you're looking at a range of somewhere between $50-600/month depending on the size of the room and materials.
What Kind of Conference Room Should I Get?
But because of the versatility in how conference rooms can be set up, let's break the idea of the conference room down into a few different categories. At Smarter Systems, we identified and created three different kinds of conferencing systems called JUMPSTART ROOMS that most clients tend to gravitate to:
The "Ready" – meant for smaller, impromptu meetings and in-person presentations. Features a 4K display that users can hook up their devices to. This costs anywhere from $50-85/month.
The "Set" – meant for rooms of any size. Features the display, but also adds a camera and a microphone for videoconferencing. This will cost you around $100-575/month.
The "Meet" – also meant for rooms of any size. Features the same display, but adds a premier video bar and touch panel room system that you can use to launch meetings without the need of a computer. This ranges from $200-600/month.
You can find more information about JUMPSTART ROOMS here:
However, there are even more categories than this. A training room, for example, is a very large room used for company or industry meetings, events, and gatherings. A very basic training room can be just under $20,000, but go up to somewhere around $60,000. Remember – the bigger the room, the more materials, installation, and cabling you'll need. Here's a general price range based off room designs:
Huddle Room (2-5 people): $1,350 - $5,500
Small Conference Room (6-8 people): $1,500 - 6,200
Medium Conference Room (9-11 people): $1,700 - $8,000
Large Conference Room (12-15 people): $2,300 - $8,400
Training Room (15+ people): $18,000 - $60,000
Open Ideation Space $7,000 - $15,000
If you're curious on any more information on pricing for any other kind of conference room, check out our Meeting Space Guide here.
What Additions are There for Conference Systems?
Here's where this gets interesting. Conference rooms change functionality based on what's part of the system and what the size of the room is, generally. Here's a list of many features you could add to your conference room:
Room personal computer
Room control systems
Display control system
Custom conference furniture
Motorized window shades
Table connections
USB wireless enablement
Room scheduler
Projection systems
Sound masking
Acoustic paneling
Microphone placement
Multi-camera functionality
If you're looking for any additional pricing questions, or even looking to started on building the perfect conference room for your business, contact our sales department here!