What is your ideal classroom set up? Any certain classroom audio visual technologies you think you need? Do you think there is a perfect classroom? University of North Carolina's School of Media and Journalism's Reese News Lab is trying to accomplish just that.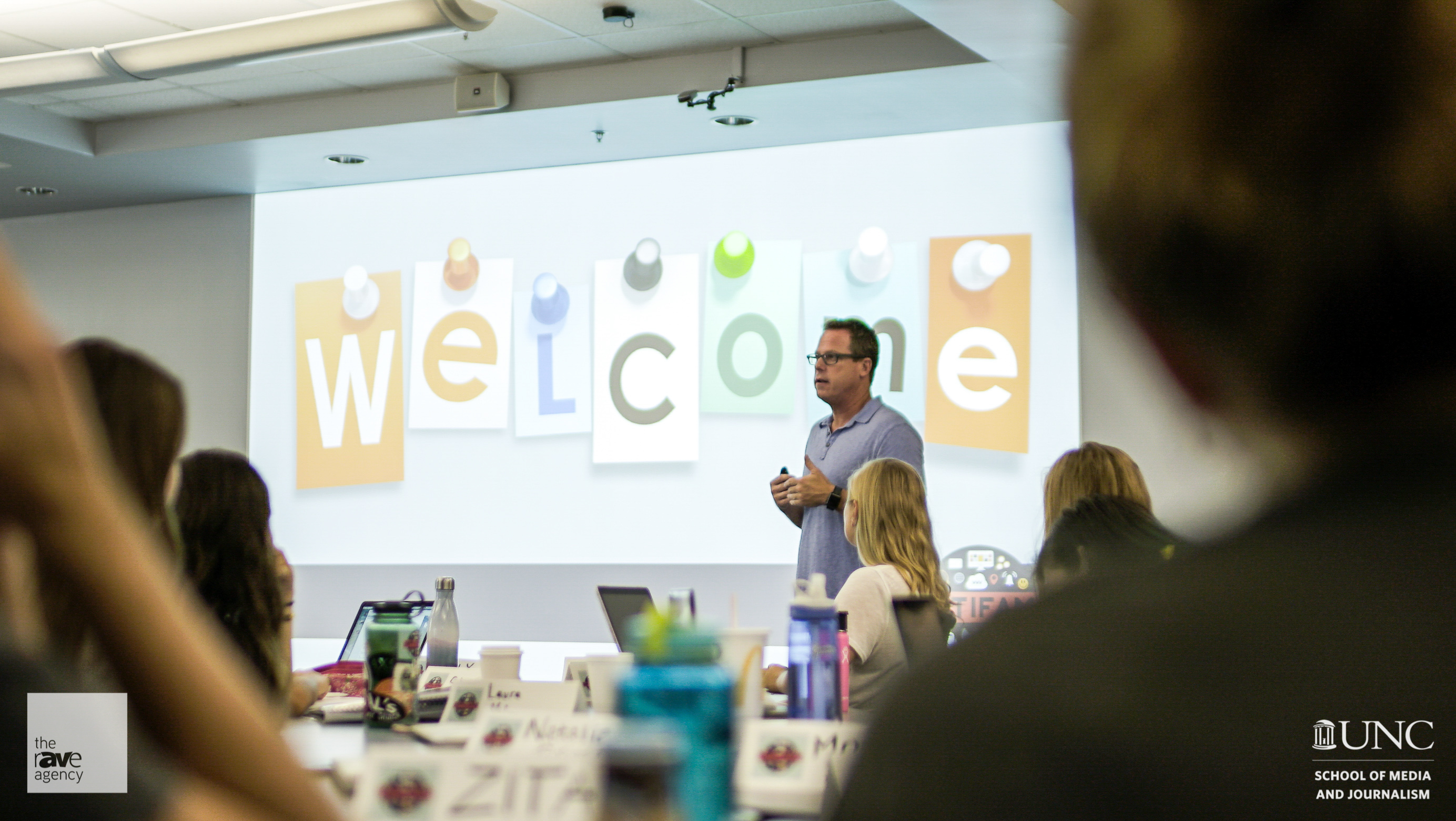 We caught up with Gary Kayye who has been teaching new media technologies, branding and advertising at UNC for ten years. He played a huge role in the creation of this prototype room. Kayye says "This classroom was designed with millennials and generation Z in mind, and they learn differently than anyone over the age of 30 or 35 years old. They are electronic collaborators."
Collaborative Classroom
What if no student ever had to miss class and no professor ever has to cancel class? That's what Reese News Lab can accomplish. However, it also can be reconfigured within minutes to accommodate any setting because it is wireless and mobile. Kayye says "Literally within minutes you can take a regular lecture hall style class to 5 or 6 different huddle spaces where students are collaborating on projects, and multiple groups are in the same room at the same time."
Kayye added' "But then again if a student is not in class they can still collaborate with their team remotely and get the same collaborative experience as if they were there live because that team can bring them in to the discussion through either the Nureva Span or through the camera system in the room using Zoom."
"I think this speaks to people because of its simplicity, but it's still a sophisticated operation."
Kayye said, "I think this speaks to people because of its simplicity, but it's still a sophisticated operation. Meaning it's probably half the price of what a classroom like this would have been a year ago not just because of the technology improvement, but also because of the way we designed it using off the shelf tools rather than complicated, exclusive, or limited architecture." For example, the room uses Zoom in the classroom for video conferencing which is roughly $10 a month giving the room a dedicated ID. Students can set up a free account and call in anytime.



Classroom Technology Solutions
Around the Reese News Lab, there is no shortage of audio visual solutions. However, two of the most notable are the Nureva HDL300 and Span Wall. The HDL300 is the room microphone array. It gives you the capability to record and hear live presentations as well as providing voice lift when students ask guest speakers a question. The HDL300 system is a patent-pending Microphone Mist technology that fills a room with thousands of virtual microphones to deliver full-room pickup.
Kayye says " The SPAN wall acts as a combination of an electronic whiteboard and electronic post-it notes. So it allows you to collaborate on group projects, but captures it in a moment of time that you can continue later." Students can also be working on a project even if they aren't in class. "Visually if you are there in the classroom, it is there on the wall, and if you are not, you just have to login on with your user ID and password to see everything that was on the SPAN wall in electronic form on your laptop, tablet or even on your mobile phone," Kayye said.
Create the Perfect Classroom
Kayye explained that this room was meant to be a beta test or prototype for a classroom of the future. "We wanted it to be both linear and non-linear and synchronize and asynchronous. Meaning, like a traditional college you can go in and lecture in the classroom like you, normally would, but like an online-only university you can also teach that way as well from the room."
The intellectual property for this classroom is shared in hopes that the idea will be used and improved. All the designs and plans are open source and freely available for everyone to download. Many universities can use this design and accomplish what Kayye says is the "perfect classroom." However, he also said, "Having an AV integrator diversified in their ability to do different kinds of projects and have access to different products was a good idea whether or not you are trying to do all the integration yourself as a university." Kayye said, "I think Smarter Systems was a good partner to have."
If you are interested in learning more about the products used inside the Reese News Lab and how we can help create that environment for you, contact us here.