It's a Monday morning and you've just shown up to work. You start up up your laptop, answer some emails, and get some coffee brewed and flowing through you. Finally, it's time to resume that big project you have due later this week.
However, a few minutes in, your co-workers start chatting a few cubicles down. Then another co-worker starts using the printer. You hear the beep of the toaster oven go off. And now you must refocus yourself, to your chagrin.

Sound masking is designed to eliminate these kinds of situations, and boost productivity and focus.
Especially in open office areas, one of the biggest deterrents of office productivity is noise. But what may seem surprising to you is that an extremely quiet environment and a very noisy environment are equally as bad for productive cognition.
In a 2012 study, it was found that out of four groups exposed to background music at various volumes, the one with music playing at a moderate level (equivalent to a running shower or coffee shop) was the most productive.
Sound masking is essentially the same idea. Sound emitters are distributed around the room you're masking, and a specially designed signal is played which keeps background noise at a consistent, moderate level that humans are less likely to be distracted in.
Image credit: HPBMagazine
The signal, although fundamentally different, is very similar to "white noise," and sounds like an air vent or a rainy day. This improves speech privacy, which not only keeps the content of conversations between just the intended listeners, but also helps surrounding employees focus on their work with less distractions.
Sound masking systems don't have to be just noise blaring through a speaker, though. Add on background music or a paging system!
Systems can be "zoned" for different areas of an office. Want background music in the lobby and employee break room, but not in the "bullpen" cubicle area? A sound masking system can achieve that!
Sound masking also blends in with your environment. Does your lobby feature a high ceiling? Factor that into the volume output of the individual "zone".
No ceiling tiles? No problem! Pendant emitters can suspend from an open ceiling, creating a sleek look that won't compete with your lighting fixtures.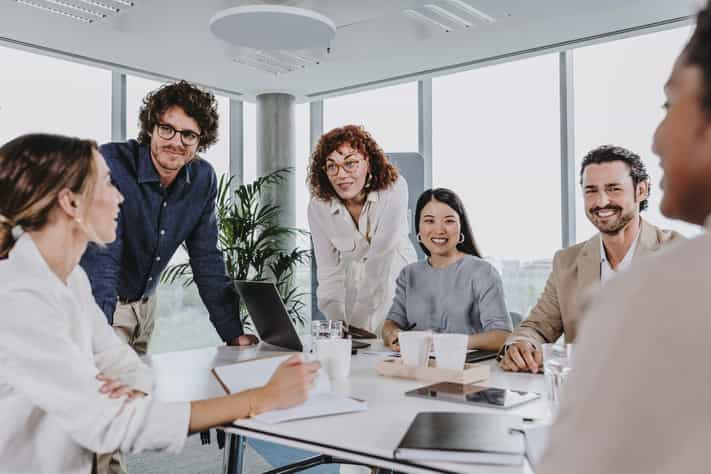 If you're interested in installing a sound masking system into your office or classroom, look no further! Sound masking is not only included in many of our custom solutions, but also as an addon in our JUMPSTART ROOMS conference bundles. Smarter Systems is very experienced in installing these systems, and we'd be more than glad to help your company's productivity thrive.