It's hard to believe we have been in this new way of working for over a year now. I'll never forget the sheer shock to my system learning to juggle work and homeschooling (which is not my forte). Although mind numbing at first, I feel like we settled into a new routine that has now become somewhat satisfying.
Luckily my boys have been fortunate to be in school full time this year although on an abbreviated daily schedule. When we were first ordered to "shelter in place", I pulled this old ratty desk out of the garage to get through a few weeks at home. Well, we all know how that went. So…after about 3 months on the struggle bus, I tossed that desk and built myself a comfy, cozy office. It has made all the difference. I've thrown myself into this work from home thing and truthfully it has worked out beautifully.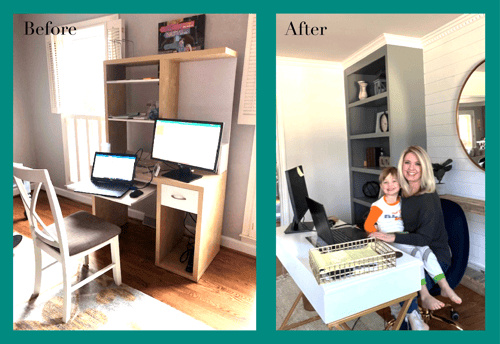 BUT…now what? How are we going to integrate back into the office again without being shellshocked? I mean, we just found our new rhythm and now you're going to change it again? Funny you should ask because it seems to be a common conversation with many of my clients. Here are some tips that may help ease your team back into the office without instantly overwhelming them….again:
Be sensitive to each person's feelings about Covid and returning to work. Some may be ready to dive right back in while others may want to slowly dip their toe in the water. Many companies are allowing their employees to take a phased approach as to when they are in the office and when they are go going to work from home. In our office we have implemented a flex/rotating schedule for time in the office and working from home. This gives our team a sense of security AND cuts down on the number of people in the office daily. This has worked well for us in a time where we have been busier than ever.
Create a "happy place" to work. Remember, these are the same people who have been working from their comfort zones for the last year. Coming back into the office will be a bit of a culture shock. One client told me that they are creating a picnic space outside. This will allow employees to gather to eat a snack or lunch in an open, outside area. I love this idea and am pushing for this in our office.
Tools and technology! This is so important. Ensure your team has the tools and technology they need to feel safe, and to be able to continue to work together in this hybrid work environment. One of our partners, Poly, has some fantastic, out of the box solutions that help collocated teams work seamlessly together. We have been deploying these solutions for our customers at a rapid pace. The Poly Studio is perfect for a huddle space while the X30 or X50 are better options for larger rooms.

Ask your employees for feedback as you re-enter the office. This is critical. You want to keep a pulse on how you as an employer are doing to phase your team back into your working environment. We are stronger together. Talk to your team. Ask them questions and show them that you care. Their safety and wellbeing should be your top priority.
I'm on this journey with you friend. I am loving my new home office but miss the daily face to face interaction with some of my favorite people, my team. I plan to ease back into the office but will continue a hybrid work model. I know my boss is open to giving us all the grace and hope yours is too. If we have proven anything over the last year it is that we are committed to the success of our company. We've worked harder and smarter than ever before. It's been a tough year in many ways, but in other ways we have adopted some behaviors that have changed our company for the better and propelled us forward. Hang in there. You can do this thing!
Our team is here to be a resource for you! Reach out to us today.