We are excited to announce the newest addition to our team, Steve Tripi. He will be heading up all things JUMPSTART ROOMS, and is passionate about helping businesses discover new ways to work smarter!
Learn a little about Steve Tripi, from Steve himself...
"Despite being someone who loves to talk, I've never felt super comfortable talking about myself.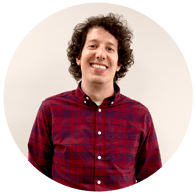 It's not easy to change careers, nor cities, but here I am doing both. I'm a Buffalo, NY native, and recently relocated to Charlotte for the many opportunities the (much larger) Queen City has to offer. Buffalo is considered the "Queen City" of New York, playing second fiddle to the obviously larger metropolitan behemoth to the southeast of my hometown, New York City.
I worked as a morning radio producer for almost a decade in Buffalo, where I got to entertain and inform our listeners on a heritage of classic rock. As fun and cool as that job can be, growth can be limited in broadcasting, so I started to reevaluate my priorities once COVID really took its toll on the world.
A year and a half later, I arrived at AV as an awesome opportunity to build a potential career. I taught myself the Certified Technology Specialist (CTS) by AVIXA and passed the exam in July, just in time for my relocation to Charlotte. Despite my limited direct AV experience, Ned Coleman, President of Smarter Systems, saw something in me, and decided I'm a fit to serve as the JUMPSTART ROOMS Business Development Manager. JUMPSTART ROOMS are an emerging, exciting opportunity to grow Smarter Systems in new directions locally, regionally, and beyond.
I love to talk... that's probably why AV is so appealing. Providing a way for people to communicate in a productive, collaborative, and safe environment makes me very excited for what's to come. I'm eager to help people exceed their communication needs through all the incredible options JUMPSTART ROOMS provide. With these fascinating tools at my disposal, along with the tremendous talent here at Smarter Systems, I'm excited to begin my journey in a new field, in a new city.
If you're ready to explore options on your meeting places, let's talk!" - Steve