Are you SET up to succeed in your meeting space? The importance of a high-functioning meeting space technology solution is continuing to grow as the way we conduct business continues to evolve.
The need for video conferencing technology is continuing to grow. Whether you're conferencing in remote employees or clients you need to be equipped with technology that is fool proof for professionalism. But a system like this comes with a significant upfront investment… well it used to. We know that it can be difficult to keep up with the changes in conference room technology while staying on budget. This is why we came up with a solution that enables you to implement turnkey technology and support at a convenient monthly rate. What's this amazing solution you may ask? JUMPSTART ROOMS.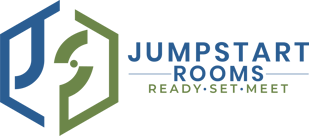 JUMPSTART ROOMS are designed to make it easier to connect with those on your team, by bringing Zoom, Microsoft Teams, and more into your conference room.  Not only do you get top notch technology, but you also get an AV partner that will be there to support you along the way.  With a convenient monthly price, you receive turnkey technology, professional installation, concierge technical support, and a full solution replacement guarantee.  Could it get any better?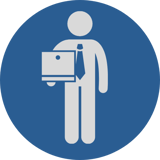 THE SET JUMPSTART ROOM is your full video conferencing system, professional installation, technical support, and a solution replacement guarantee all bundled into an affordable monthly cost. The 4K Crystal UHD display will show your attendees with such clarity that you might forget they aren't actually in the room with you. Simply connect your device to the system and you're ready to launch any meeting with the premium camera and microphone.
Loving what you're hearing about THE SET? It's so simple to get started with your JUMPSTART ROOM. Use the button below to select your room size and you will get linked up with one of our JUMPSTART ROOMS experts!
Not quite sure if THE SET fully matches all of your conferencing needs? No worries, that is why we offer THE EXTRAS, and just like the rest of the bundle, they are offered at a convenient monthly price!
Room Control System

Control your display with the touch of a button positioned discreetly on the wall.

Room Scheduler

Reserve the meeting space from your desk, on the app or on the spot with the

room scheduler touch panel.

Room PC

A room PC enables your room to be controlled directly. This includes a keyboard and a mouse.

Wireless Enablement

A software free system that enables you to wirelessly share content from your device to the screen.

Conference Furniture

Tables and AV cabinets to fit any room with customizable colors, shapes and designs.
If you are loving JUMPSTART ROOMS but not sure if THE SET is the perfect bundle for your team, we have additional solutions that will fit your needs! Check out THE READY and THE MEET here.
We are excited to help you work smarter with your JUMPSTART ROOM!