Everyone is feeling the impact of the coronavirus (COVID-19) pandemic. We've heard so many of our clients' struggles but also stories of successful pivots with the necessary technology changes. With so much uncertainty, we wanted to provide you with an update on our status and daily operations.
COVID-19 Impact
Our mission is to transform the way our customers communicate and collaborate with technology solutions that increase productivity and effectiveness. We believe it's more important than ever to carry out that mission.
That's why it's business as usual for Smarter Systems, but the reality is we've had to make significant changes in order to protect the health of our team and comply with state and local orders. We currently have a remote work strategy in place. Most of our team that can work from home is now doing that. Others are on staggered schedules to cut down on possible exposure in our office. Our VP of Strategic and Global Accounts has been chronicling her time working from home. You can check it out here.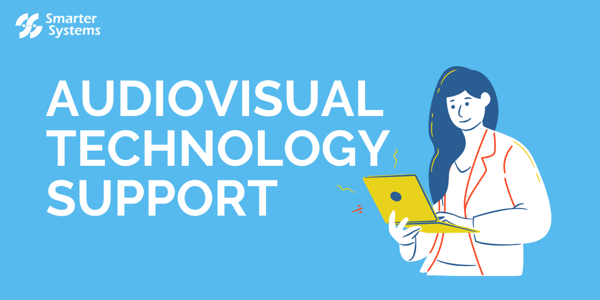 Keeping Your Business Running
We have team members in the field daily as AV integration services are classified as an essential business, supporting your business. From conference rooms to classrooms, we can provide AV solutions that will keep organizations connected during this crisis. If you are working from home, we can assist there too! We put together A Smarter Way to Work from Home guide to help with this transition using video conferencing equipment.
Our Sales and Design team are ready to help with any issues that hinder your organization from staying connected or if you are planning long term for when the office is back to normal. We are also working hard to create resources that you'll find helpful during this difficult time. You can find everything we've put together in our Collaboration Center.
COVID-19 Precautions
Right now, we are moving forward with planned installs and taking on new projects. As we are continuing business as usual we are taking precautions for our field teams. Each team member that will be in the field is:
Regularly wash their hands for at least 20 seconds or using hand sanitizer
Avoiding close contact with each other and clients (at least 6 feet distance as possible)
Wiping down high touch surfaces with disinfecting wipes
We hope that you are staying safe and taking the necessary precautions to fight COVID-19. We are open for business and ready to help teams communicate and collaborate. If you need help connecting your organizations through AV technology, please click here.