Are you READY to JUMPSTART your meeting space with new technology but not sure where to start? THE READY JUMPSTART ROOM may just be the solution you are searching for.
A meeting space is about connecting people, whether they're in the same room or around the world. JUMPSTART ROOMS are designed to make it easier to connect with those on your team. Not only do you get top notch technology, but you also get an AV partner that will be there for all your needs. With an affordable monthly price, you receive turnkey technology, professional installation, concierge technical support, and the solution replacement guarantee. Could it get any better?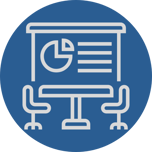 Whether your team is returning to the office, or never left the office, THE READY is the perfect starting point for updating your meeting space. The room includes all the basics that will enable your team to focus on work and not on technology errors. The 4K crystal UHD display will showcase your reports, content, or sports game with top level clarity. Simply connect your personal device with the HDMI cord and you're READY to go.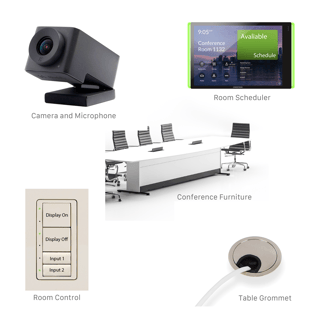 Love THE READY but need a few extra things to make it the perfect system for your team? No worries, that's what THE EXTRAS are for. THE READY has five unique EXTRAS that can take your space to the next level. Add a Room Control System to control your display with the touch of a button on the wall. Need to add in video conferencing, simple, add the USB conference camera that provides professional level conferencing. Want to ensure that the meeting space is clearly and easily reserved, add on the room scheduler that will showcase the availably and scheduled meetings in that room. Want to connect easier, bring the connection to the table with a simple table grommet. Last but certainly not least, take your conference room to the next level with beautiful conference room furniture.
You are one jump away from meeting all your conferencing needs. What are you waiting for? Check out THE READY here.
Not sure if THE READY is the perfect fit for your team? Check out THE SET and THE MEET JUMPSTART ROOMS here. We have the perfect solution for whatever your needs may be.